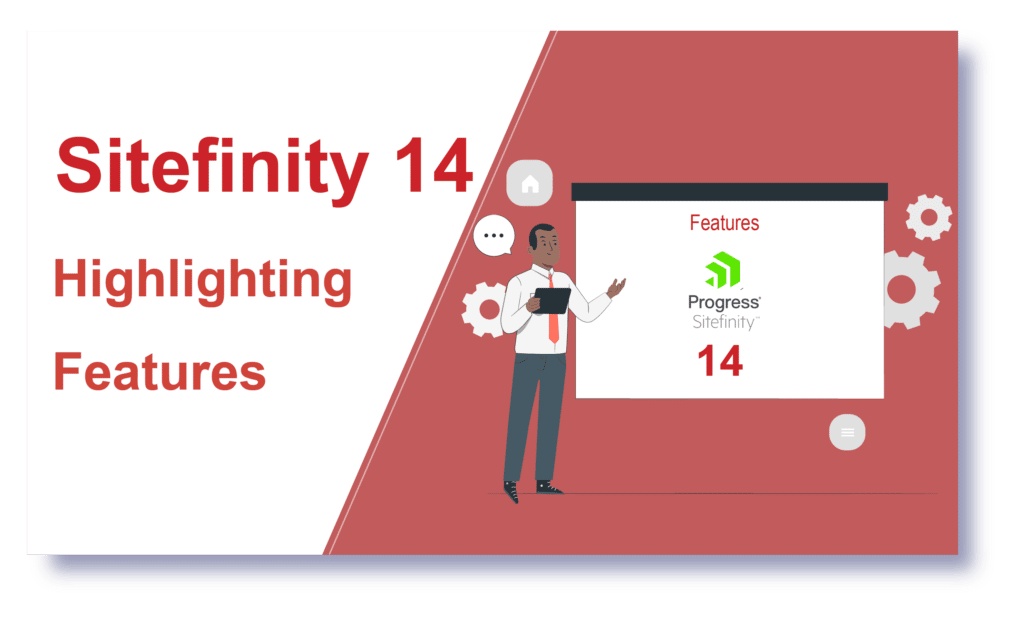 Sitefinity 14 – Get to know the highlighting features
The best thing about all the advancements of today is that nothing remains to be static. It keeps changing and evolving to get better and better. This way, any technologies available today can be made to perfection with each and every update made. Sitefinity is without any doubt an excellent CMS platform that allows users to get a handful of effective and productive developmental features in a single platform. All of these inclusive factors have enabled Sitefinity to be one of the most preferred CMS platforms.
Sitefinity New Version
Sitefinity DX 14 is the latest version of it and is designed to accelerate and guarantee much scalable and promising delivery of the best digital experience. Sitefinity which is known for the convenience it offers has been tailored and improved in a way that it is made more flexible to enable faster operational excellence. In this article, we will be looking at some of the key features of the latest version of Sitefinity DX 14, and how it can accelerate your digital transformation journey. Let us get started!
Sitefinity DX 14 – The Highlights
The latest updations that have been reflected on Sitefinity DX 14.0 is crafted in a way that ensures enhances the functionalities of CMS with much more quality and efficiency. Let us look at what it puts forth. 
Improved Marketing tools and Sitefinity Insight
One of the prominent features of Sitefinity development is that it is a CMS platform that comes with inbuilt marketing tools and features. You can also integrate additional third-party tools/plugins easily if you wish to have more additional tools to work on. With this built-in system, you can get access to improved marketing features, use personalized content depending on the audience, and get customer profile insights much more easily. You can also optimize based on micro or macro conversions. 
This latest component framework is intended to be easily accessible and it is bits of code snippets, patterns, and components. They are reusable in nature and it is intended to enhance accessibility features for backend users. It smoothens the developmental process as well. 
We did mention that Sitefinity is a platform that offers great convenience in the process of integration. By integrating NativeChat with your Sitefinity Insight the marketer in you can reap great benefits. Sitefinity has multiple benefits to offer the marketing team and this is one of them. By integrating Sitefinity and NativeChat you can in fact analyze and get to know the quality of the Chatbot interaction, that is whether it is contributing a positive impact on your clientele. 
Sitefinity is mainly about the added benefits and experiences that you shall be getting. The new version has a complete WYSIWYG page builder. It offers a set of best-in-class open-source widgets that you can customize as well. This will also help you in the process of setting up multichannel experiences and the platform architecture it has is quite flexible. 
DAM integrations with Cloudinary and Frontify
Cloudinary and Frontify are offering the best integration features for your documentation processes including images and videos. This will benefit the organizations for having an upper hand in asset organization by allowing them to improve productivity by maximizing their existing workflows. 
Advanced search options inclusive of AI
Another interesting aspect of using Sitefinity is that it offers an opportunity to personalize content and search results. This feature is even more enhanced in the latest version through Azure Cognitive Search Support. This way it analyses the behaviors and intents of visitors and provides them with personalized content. This will contribute to improving the organization's approach to the target audience. 
The Bottom Line
Now that you have read about what Sitefinity has to offer in its latest version, you might have understood that it is clearly the best platform if you wish to leverage more audience, traffic, and ROI. It is very important that you evaluate the technologies you opt for to secure your positions among the competitors and therefore there are no options other than going for the best CMS platforms. With the best development team to work for you, you can brew out a promising website with the help of Sitefinity.