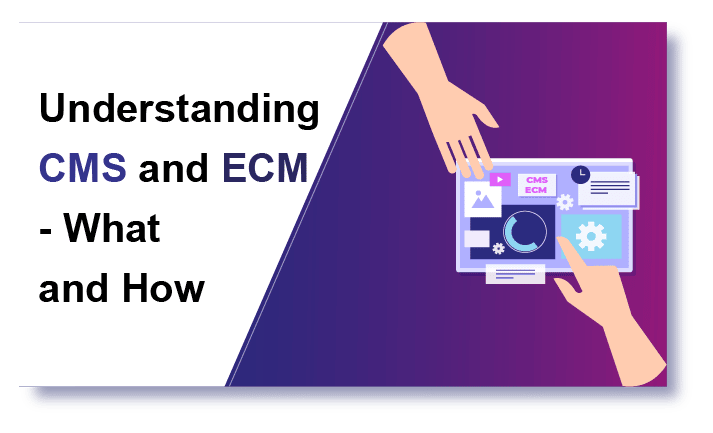 Understanding CMS and ECM
The technological advancement of today has made invaluable contributions toward making organizational functions and structures much more seamless and productive. Automation and centralization have made significant contributions toward boosting productivity among every other stratum or department within organizations. Especially in the era which was struck by the covid pandemic, these technologies played a major role in ensuring that the pandemic never really affected the healthy execution of the company's roles and responsibilities.
CMS AND ECM
CMS (Content Management System) and ECM (Enterprise Content Management) are two such technologies that contribute greatly toward managing and regulating content and data in an organization. Both of them might sound alike and for the same reason, people who are even in this niche might confuse them for each other. Even though they look and sound pretty similar, both of them differ from each other in many ways. In this article, we will analyze what they are and how they differ from each other.
Content Management System – CMS
Content Management System, commonly known as CMS allows one to develop a website with the most simple steps. One can conveniently build a website even if he/she does not have proper knowledge of coding. All the basic infrastructure and architecture one require to build a website will be taken care of by CMS and one can keenly focus on the front end part, or how aesthetic and appealing the website should be looking. A perfect example of CMS is none other than WordPress which is widely used by developers around the globe. 
Enterprise Content Management – ECM 
Enterprise Content Management or ECM in simple words could say that is a system that would allow effective management and storage of content and data in a digital form. This allows easy storage, delivery, sending, sharing and accessing of data and all of these functions get executed much faster and efficiently. At an enterprise level, it will turn out to be of great benefit as they can conveniently share data and content under a single framework or arrangement. 
ECM vs CMS – How do they differ?
Just like we mentioned earlier, many people have a misconception that both these systems are the same and perform the same function. In fact, they are far different from each other. CMS is a great option for smaller-sized documents whereas when it comes to larger-sized files like videos, high-quality images, audio files, etc, ECM seems to have supremacy. And similarly, CMS would be a great option for small or medium-sized companies as they are much easy to manage and handle. On the other hand, larger-sized companies might fight ECM to be more effective and prefer to execute their requirements as they will have the resources and finances to manage and execute the content management.